AIMI:
An AI Innovation Assessment & Action Plan
A diagnostic framework that helps your organisation understand its level of AI innovation maturity within its own context. It creates a bespoke and actionable roadmap from short-term use cases to long-term competitive advantage and business sustainability.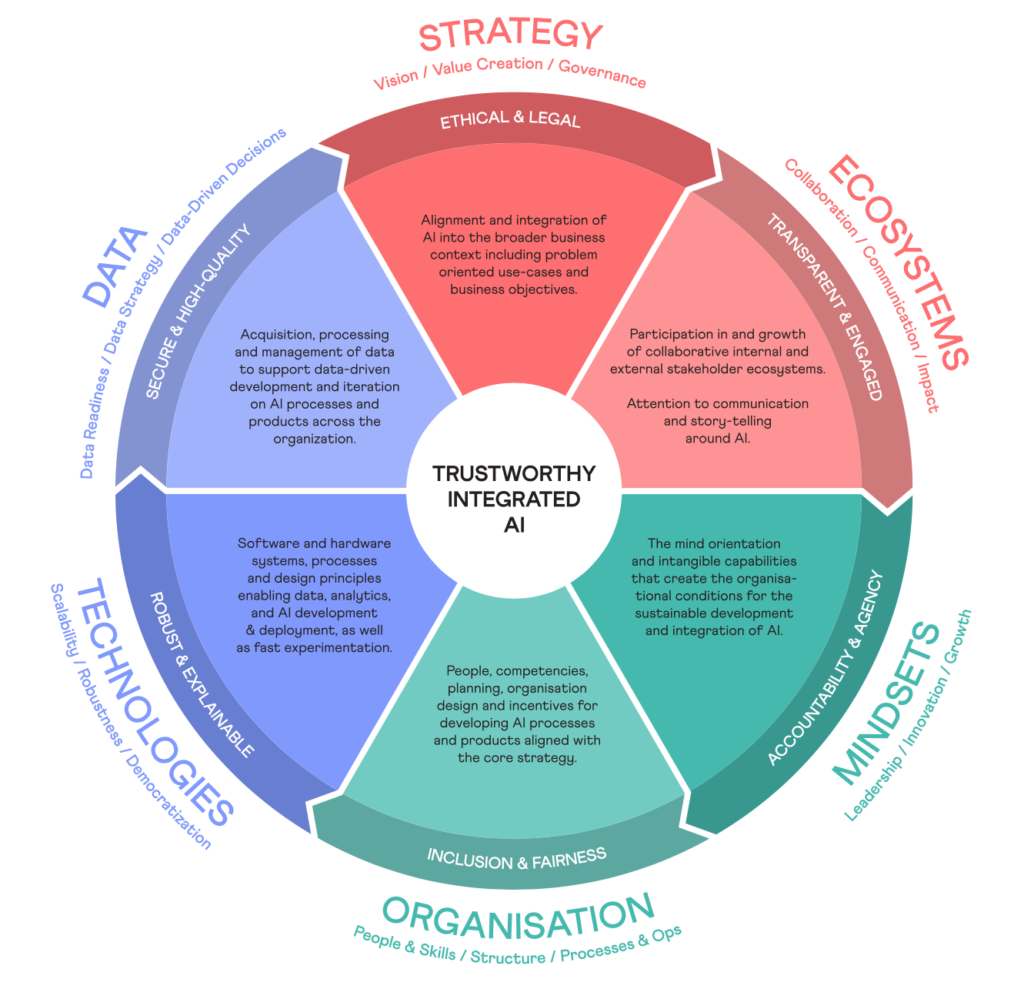 How Ready is Your Organisation?
Find out where your organisation is on the AI innovation maturity scale and how to transform it for competitive advantage with AI.
Organisations at this stage have a general curiosity about AI but a limited understanding of relevant and useful use cases. They often face organisational and mindset challenges to truly embracing, and getting started with, AI. 
These organisations build capabilities to execute on more straight-forward AI applications. This is an "action" stage, with a focus on a few specific projects based on identified internal needs, often supported by leadership alignment. 
These organisations tend to move from a business optimisation approach to an outward and forward looking innovation strategy and mindset. They can start reaping the benefits of built-up knowledge and capacity around AI to create new applications with higher speed. 
Major shifts in the leadership mindset and strategic orientation take place in these organisations. They understand that AI is not just a technology, but the basis for bigger organisation/market/industry transformations.
These organisations have Trustworthy Integrated AI at the core of the business strategy with the capacity to develop new applications and business models and affect their markets and ecosystems. They have reached a self-transforming stage – able to learn, evaluate, adjust, invest in the future.
The Benefits of Applying AIMI
Creates organisational alignment and clarity around your company's AI integration planning. Sets a common vocabulary, assembles and disseminates best practices
Provides a holistic organisation-level view of what is involved in becoming an AI driven business and shows you where you are in that journey
A comprehensive, expert driven analysis of your company's readiness and AI maturity
Future looking. Identifies the next steps / action plan for developing your organisational AI innovation maturity
Establishes a benchmark of AI maturity that can be tracked over time

Ensures a core focus on Trustworthy AI – an imperative for sustainable and responsible AI
How it Works
We work collaboratively to help you assess and develop your organisation. AI Innovation Maturity Index diagnostic framework helps your organisation understand its level of AI maturity and serves as a basis to create an actionable roadmap from short-term use cases to long-term competitive advantage and business sustainability.